Fifth Wheel trailers in America are often referred to as "gooseneck trailers", or simply "goosenecks". The "gooseneck" refers to the forward part of a trailer arched like a goose's neck over the tow vehicle's tray body. There is some history in the term 'fifth wheel' (turntable hitch). Although today it refers to the fifth wheel turntable which is part of the articulated coupling fitted to the tow vehicle. Today, the fifth wheel now denotes an RV trailer body/living quarters, especially in Australia.
A fifth wheeler can be extremely useful whenever you decide to take a break from work or when you decide to live the life of a nomad. However, buying one is a big decision to make, the likes of which is akin to buying a house or a car. There are a few things that you should consider first before choosing a fifth wheeler. You should remember to: know the towing capacity of your vehicle, be open to other options and second opinions, think like you are just buying a new car, make sure it is inspected and serviced, find the best value.
Knowing your 

vehicles

 towing capacity will enable you to choose the right fifth wheeler. Aside from ensuring your safety, you can save a lot of time and money by getting it right the first time.

You may be one of those people who do research beforehand or one who just barges into a store immediately and relies on the opinion of the store's staff. Either way, you should allow yourself to hear the opinion of other people. Doing so can enable you to make a more informed choice when you do so.  

Aside from being a major financial decision, buying a 

vehicle 

and the fifth wheeler also has almost the same process. You get help narrowing down your needs and wants, you choose the one you want, you talk about financing, you sign on the dotted line.

No one wants their five-month-old trailer to break down. It's costly and may require a lot of time. If you're unlucky, the cost of repairs may exceed the price of the fifth wheeler itself. So, you need to make sure that your new trailer is covered by a warranty/ If it's a secondhand unit, check if it was serviced before it was put on sale.

Make sure that you choose a fifth wheeler which suits your needs and meet your budget. It is also wise to buy one only from a dealer with a good reputation. It pays to be cautious and when the time comes that you'll need repairs, these stores usually offer basic repairs and check-ups if your RV is still under warranty.
Besides the things mentioned above, you should also know more details about fifth wheelers. This can help you choose the best RV that is perfect for your needs. Read more to find out!
What's Inside of a Fifth Wheeler?
The interior of a fifth wheeler comes with almost all the things that you need. This makes your travels easier and hassle-free. Most RVs come equipped with gas bottles and modern conveniences such:
Insulation

Roof hatches

Air conditioning

Cooktop

Oven

Microwave

Hot water storage

Deep cycle batteries

Wall plugs

Water pumps

Shower

Basin and vanity cupboards

Water tank level monitors

3-way refrigerator

230V AC with 12V converter & 30-amp battery charger
Other models, specifically higher end ones have gas detector and smoke alarms and an entertainment system (with TV and CD/DVD player). It is also important to check out the specifications of the fifth wheeler that you intend to purchase. Make sure that the features of the RV and your needs are compatible.
Fifth wheelers also come with a swivel toilet with a removable cassette. Some models provide for an internal and external shower. Fifth wheelers also feature water tank for your taps, toilet flush, and shower. A 'grey' water tank for sullage is also offered for some models.
What Are the Components of a Fifth 
Wheeler
 Hitch?
There are seven parts that make up a fifth wheeler. We have listed all seven parts below:
Fifth wheel plate: this is mounted to the bed of your tow vehicle and contains the hitch plate, plate jaws and handle.

Handle: used to lock and release the plate jaws.

Hitch plate: this is the 'wheel' on which the trailer rotates.

Pin (kingpin): is a pin that is attached to the fifth wheeler. It is designed to fit into the plate jaws mounted in the bed of the tow vehicle.

Pin box: a box-like structure that is attached to the bottom-front section of the trailer frame (while the pin is attached to the bottom).

Plate jaws: holds the pin in place.

Side rails: these are the support rails that are bolted to the bed of the tow vehicle.
What Types of Hitches Are Available for Fifth Wheeler Trailers?
The turntable hitch is like that on semi-trailers hence the terminology 'fifth wheeler'. Although there is no other type of hitches are available for fifth wheel trailers. Many hitch brand names are now available, like the Drawtite, Reese and Hijacker hitches.
Fifth wheeler hitches are rated for the gross trailer weight and the pin weight that the hitch can handle. Some of the popular hitch ratings are 15K (or 15,000 lbs) 16K, 18K, 20K, 21K, and 22K. We have compiled a list of hitch brands/models that have good quality and value. 
Who Are The Manufacturers of These Hitches?
Reese Signature Series Slider
Reese Signature Series Slider hitches is designed for short bed trucks to give additional clearance and to prevent damage to the tow vehicle or trailer in tight locations.
The Hijacker
Hijacker has a model of a fifth wheel hitch that is designed to be installed under the bed of the truck. This then leaves the rear of the tow vehicle clear of bedrails or side rails.
D'Angelo Engineering (Laverton, Victoria)
D'Angelo Engineering have produced a 'double oscillator' hitch which follows the standards set by the ISO and Australia. The hitch was designed for use with their MiniMax fifth wheeler.
Travelhome Pty Ltd (Boolaroo, NSW)
Travelhome Pty Ltd have designed a hitch that was made to withstand the Australian road conditions Their tow balls and socket couplings also comply with Australian Design Rules (ADR 62/01 & 62/02).
How Do I Stabilise A Fifth Wheeler?
One of the strong advantages of fifth wheel caravans is that the better designed and engineered units are a pleasure to tow. They are potentially more stable than conventional caravans. This achievable stability is not just a qualitative (touchy feely) perception, but it is achievable both theoretically and practically.
To achieve this, they must have most of their weight on their rear wheels. Given that, they act (when subject to side winds) very much like pendulums, the swinging automatically dies down when the force exerted by the wind is removed.
Designed correctly, a fifth wheel caravan does this inherently. However, nothing can break the laws of physics and a conventional caravan cannot and does not self-correct once beyond a certain speed (specific to each rig). With the latter, a disturbing force can and sometimes do act much like a fuse with dynamite.
Once triggered the effect continues and may escalate if the energy needed is available (which with a caravan is kinetic and related to speed). Above a certain critical speed, swaying will not only continue but build up and may (and sometimes does) overwhelm the rig even after that initial disturbing force has ceased. It is now in what is known as a positive feedback loop.
Like turning down the volume on a suddenly howling PA (public address) system, the only way out is to reduce the energy source that keeps it going (speed). But this is not always humanly possible in time. Fortunately, the effect at which this occurs is usually above legal speed limits. But not always by that much.
What Are the Suspension Systems of a Fifth Wheeler?
Well-designed fifth wheelers also behave differently over bumps. Suspended at either end, they rise and fall on the rear suspension of the tow vehicle (at their front), and their own suspension (their rear). Here again, conventional caravans are different. They are like a dumbbell supported on a pivot a bit ahead of their middle.
Road irregularities not only cause them to rise and fall on their own and the tow vehicle's suspension but to rock fore and aft around their axle/s (or more aptly– their centre of mass). Side winds also cause them to sway around.
Some fifth wheelers, however, have a pitch fore and aft in a manner that manifests in the tow vehicle being subject to an uncomfortable motion and that their owners call 'shunting'. Sway is also observed on the rigs in extreme cases.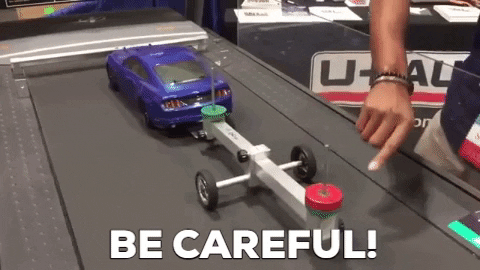 What Is Shunting?
Glenn Portch, a member of the CMCA and owner of Fifth Wheels Australia (in Port Macquarie, NSW), explains shunting and how to properly stabilise your fifth wheeler. "Some fifth wheelers  pitch fore and aft in a manner that manifests in the tow vehicle being subject to an uncomfortable motion and that their owners call 'shunting'.  In extreme cases the rigs sway as well." 
"I noticed a great deal of input into the tow vehicle from the trailer. It was a sort of 'shunting' action", he said. This is the reason why he first started tinkering with fifth wheelers to make them more stable.
"The cause is almost certainly, that of an axle location similar to conventional caravans." The axle is approximately half-way along the main body of the trailer. This causes the body of the trailer to pivot around the center of its axle—much like a seesaw.
Why Are the Axles Placed in The Front?
If you look at heavy articulated vehicles (semi-trailers), you will see that the axles are well towards the rear of the trailer. This enables the front of the trailer to move up and down on the spring suspension of the tow vehicle. The trailer's rear also does the same on its own sprung suspension.
The rig thus traverses road irregularities as one cohesive unit rather than the trailer rocking back and forth. In practice, the rule of thumb design for articulated trailers dictates that the centre of the axle group be about 75% to the rear of the total length of the trailer.
The reason why some fifth wheelers have a more forward than desirable axle placing is simply weight. Many fifth wheelers are designed to be towed by the readily available one-tonne and three-quarters trucks such as the Ford F Series, Chevrolets, and Dodges.  
In order to tow a fifth wheeler legally and still meet the load rating of the tow vehicle, its forward weight must be reduced by placing the axles forward. This ensures more weight is borne by the trailer and less (via the hitch) by the tow vehicle.
What Is the Seven-Headed Dragon?
A seven-headed dragon is a metaphor for solving one problem while also instigating more. It has also created a market for products that are otherwise less necessary or possibly not necessary at all.  These include fifth wheeler towing aides with air and/or rubber pin boxes, and airbag hitches.
It can be argued that these are used in part to overcome shortcomings in the original design concept, specifically a semi-trailer which has a prime mover of six-ten tonnes that can handle loaded trailers (of 20 to 30 tonnes) with far less shunting. As compared to many recreational fifth wheelers.
The main cause of this problem is the material of the fifth wheeler. Most of them are built from materials that have been used since the 19th century. Which means that innovation, in fifth wheeler caravans, is not as dynamic compared to other areas in the transportation industry.
When traveling, weight is crucial. Therefore, to support thick plywood and steel, you need heavy-duty axles, wheels, tyres, floor framing, and etc. This brings another seven-headed dragon to the fore.
The solution is to build lightly. Today's high-tech materials (which includes composite wall and floor materials and lightweight alloys) reduce weight yet increase overall strength.
Various other innovative Australian and overseas manufacturers also use various fibreglass, plastic and metal alloy for their composite panels. These companies have the ultimate goal of building light, strong, long lasting vehicles for Australian conditions.
Do Fifth Wheeler's Come with Electric Brakes?
Yes. Fifth wheelers are also fitted with a breakaway switch. For trailers with a Gross Trailer Mass (GTM) of 2-tonnes, the braking system should have brakes operating on the wheels of at least one axle. On the other hand, trailers with a GTM of over 2-tonnes must have brakes operating on all wheels and be equipped with an Emergency Brake System (EBS). This technology will cause the immediate automatic application of brakes if the trailer accidentally becomes disconnected from the tow vehicle
If the fifth wheeler has an Aggregate Trailer Mass (ATM) of more than 4.5-tonnes, then larger axles and air brakes must be fitted. For those with a lower ATM, normal caravan electric brakes are enough.
For further information, refer to the website of the Australian Government, Department of Infrastructure and Regional Development, Vehicle Standards Bulletin (infrastructure.gov.au) and their links to Vehicle Standard (Australian Design Rule 38/02) – Trailer Brake Systems.
How Wide Are Fifth Wheelers? Will They Fit on A Conventional Caravan Site?
Most of them are 8-foot wide but the slide-outs can add up to 2-4 feet. By comparison, caravans usually come measuring in 7'6" or 7'8". This makes caravans more suitable for destinations which cannot accommodate large vehicles.
They will fit on most of the caravan sites, but it largely depends upon the dimensions of the fifth wheeler. This is more important if you will decide to use the slide-outs. So, it is important to check whether the caravan site that you'd like to visit can accommodate fifth wheelers. However, fifth wheelers don't have a drawbar or A-Frame. This makes them more maneuverable as the vehicle can approach at much tighter angles.
Can My Vehicle Handle A Fifth Wheeler?
The tow vehicle must be legally rated to tow a fifth wheeler. Tray back style vehicles and utilities are normally used due to the style of hitch required to link the fifth wheeler. The towing connection is mounted on the tray of the tow vehicle and the kingpin (attached to the fifth wheeler) connects about 50 mm in front of the centre of the axle of the tow vehicle. This causes the weight of the fifth wheeler to transfer to the front wheels of the tow vehicle.
If you want a dual cab or space cab (e.g. freestyle or extra cabs), to allow for turning the RV in tight spaces, tray back vehicles are more suitable. While the back of an SUV may not fit under the gooseneck section of the fifth wheeler.
You also need to know the weight of the RV and check if your vehicle has the capacity to tow that load. Your vehicle's towing capacity can be found in the vehicle Owner's Manual. 
Do I Need A Special Licence For A Fifth Wheeler?
This will depend on the type of tow vehicle you purchase, but most fifth wheelers can be towed throughout Australia with an ordinary passenger Class 'C' vehicle licence. A 'C' Class Licence covers tow vehicles with a Gross Vehicle Mass (GVM) of up to 4.5-tonnes and any towed trailer must not have a GVM that exceeds 9-tonnes. If the tow vehicle has a GVM between 4.5-8-tonnes, then a Light Rigid (LR) truck licence is required.
Related Questions
How Much Does A Fifth Wheel Cost?
A fifth-wheel RV up to 40′ long with features similar to those in a luxury home can cost $72,000-$216,000. These may have multiple slide-outs, a full master bedroom and bath, full-sized appliances, and an electric fireplace.
What Is Better? Travel Trailer or Fifth Wheel?
Because the fifth wheel hitch is higher, they are taller than most travel trailers. This can lead to a spacious, more comfortable living space. When traveling in areas with low clearances, a travel trailer is going to be a better option. Many travel trailers are 9-foot or less making it easy to get into tight spaces.
Are Fifth Wheels Safer Than Travel Trailers?
A fifth wheel can be easier to maneuver and, in some cases, are even considered safer to tow. The main reason for this is where the hitch point is found in fifth wheels versus travel trailers. Of course, travel trailers that are very small will be easier to tow and maneuver for most than the smallest fifth wheel.
How Long Does It Take to Fit A Tow Bar?
How long does it take to get a tow bar fitted? click to expand contents. This depends on vehicle type, typically 2-3 hours.
Is It OK to Tow an Automatic Car in Neutral?
The reason for this is that neutral only disengages the engine from the transmission, but not the transmission from the wheels. If a flatbed towing vehicle is not available, a wheel lift towing vehicle may be used. Rear towing is not recommended with the front wheels on the ground, as transaxle damage can result.